As for styling your little hatchback, you are not limited in your options.
You may not see lots of Metro specific parts about in magazines, but there are plenty
of `universal` parts available, all of which either can be put straight onto the Metro, or adapted slightly.
First, let look at bonnet vents.
There are no shortage to vents that can be purchased, all of which will go on a Metro bonnet.
There are basically 3 types of main vents.
ABS plastic `stick on`, its a kind of mock vent, looks good, but requires no cutting, so you get no extra cooling either.
The `cut in`, where you have to cut a hole using a template in the bonnet, good for cooling!
And there is the new-ish type, where the bonnet has vents `cut and pressed` into itself.
We look firstly at the ABS plastic type.
There are loads of these type, they are cheap, and look the part either sprayed to match the bonnet, or you can get carbon effect style.
Below are the old Renault 19 16v vents, they always look good, with their big oval design: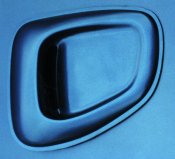 Left: The cut-in version (large) Right: The stick-on version (small)
This one is known as the Isuzu Trooper vent (AC3) from RGM, I think it would look phat on your Metro's bonnet!
This is also a stick on version, no cutting required!
This is the Renault Espace, I think this would be too rounded for Metro styling...or maybe not...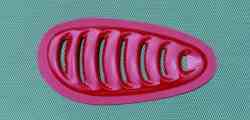 This one is the Integrale scoop!
Ahh! We all know this one! It's the Subarau Impreza one!
Very kewl and street cred, get one on your Metro NOW!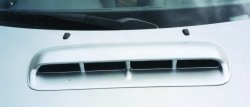 This is also the stick-on version!
Take a look at the spoiler below? Imagine it on top of the ROOF of a Metro!
Can you visualize it?
I got one of these EXACT spoilers off a Montego boot believe it or not at the breakers for £10 for my mates XR3i Cab!
But, this one is only £50 new from RGM!
I have the idea of fixing it to the original boot hatch spoiler on the Metro, by drilling holes, it would look PHAT!

You can even get it with a brake light!
Side skirts can also be purchased for the Metro, here we have a set of GTI style from the new style Rover 100/Metro.
These should be able to be tacked and bonded straight onto a Metro.
As for front splitters, I once used a Seat Ibiza lower front splitter on my Metro Turbo.
It made the front look lower, and much more sporty!
I picked mine up from a local Seat dealer for £20, now I don't know if that's what they cost, but I paid that!
They are easy to fit, all you need is about 6-8 self-tapping screws, and a small hacksaw.
I measured the length, cut the end pieces off.
Made small cuts, and took some splitter out around the `bend` of the splitter, so it could bend around the front of the Metro Turbo body.
Then it's a simple task of putting screws through the plastic bodykit of the Metro Turbo.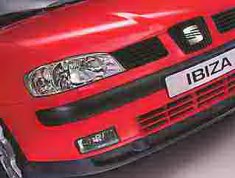 Contact your local Seat dealer for prices
This Metro Turbo below was one I saw for sale in an October 1999 edition of Fast Car magazine.
This Metro caught my eye because of the bonnet vents, and the front fog lights.
The ad read: Ford Mattise Blue, Bigbore exhaust, lowered with Spax...K&N, tints...Mark3 sideskirts & rear bumper, quickshift, alloys....
Now, this is a good example of a nicely styled Metro, I wish I could see the back end, to see how the Mk3 Metro bumper fitted,
it's not difficult to make an eye-catching Metro!
I think i'm going to run to the breakers later this week, grab a Mk3 rear bumper, and see how it fits!
WATCH THIS SPACE!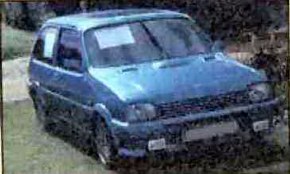 The middle bonnet vent is available from RGM Styling, and is known as the `Turbo`
I'm also currently working on cutting my m8's old front grill, to open it up,
and I will be popping along to Halfords to get some mesh for it...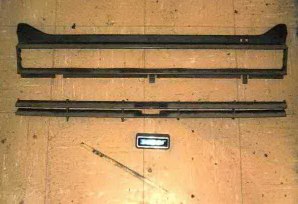 Goodbye middle bit, goodbye crappy badge, hello Evo-style grill!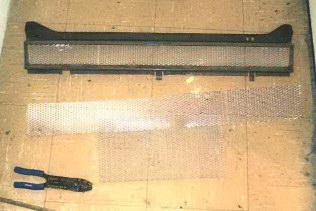 Whoohoo, Foliactec Competition mesh, getting there!
Here is a Foliatec fuel filler cap cover, I measured the size of the Metro flap, and guess what?
That's right, it measures the size of this cap you can buy:

This is Foliatecs' 34609 - 171x145mm, a perfect fit!
I'm currently working on white dials for the Metro.
You can buy white dial kit's for Mk3 Metro clocks from Motobuild, and by the look of the clocks below,
they look the same shape as the MG Metro ones!
So, I will be taking a trip the to breakers, to see if the connectors on the back are the same,
if they are, I might be able to fit Mk3 Metro clocks, and buy the white dial kit!
If not I will remove my own clocks, scan them into a scanner, and mod them, and print them off onto photopaper!
WATCH THIS SPACE!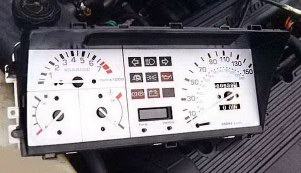 Fingers crossed the Mk3 clocks fit!
Or, here is another solution to that conundrum!
Looking at Lockwoods' dial kit's, it looks as though the one with the petrol gauge on the bottom,
might actually fit straight onto the MG clock, but without the LCD clock in the way,
take a look for yourself:

These are from the 90+ clocks...is it me? Or does it look like they would fit???
Styling for FREE, or nearly free actually...
1: Use insulating tape the same colour as your car to create `light brows`
2: Use permanent marker pen to colour sidelight bulbs!
3: Use another permanent marker pen to colour your interior light bulb!
4: Hammerite smooth paint can be used to colour your calipers
5: Use T-cut to polish under bonnet components, and even your expansion tank!